SOMETIMES WE TWERK, SOMETIMES WE DON'T.
Dancing is politics.
Dancing is good for the skin and the body, good for wrinkles and muscles, good to wiggle our love wrists or our chocolate perctoral. Dancing is healthy for the mind, body and soul. Dancing is politics.
And while there are many many ways to dance, there is only one rule that we should be able to genuinely submit to: choose with whom and when we want to dance. Because sometimes we twerk and sometimes we don't, according to our urgencies, our fights, our needs, our desires. May 2019's first EL*C newsletter offer you gold nuggets from here and elsewhere so that the memory of this past year and the perfume of the one to come can reinforce us in the certainty that our dyke's planet is bubbling and that it will not be done without you.
In 2019 we wish to be with you, all of you, all of us together, if you grant us a dance...

We received many workshop proposals and we know how impatient you are to know what will be served to you during the 2019 edition of the European Lesbian* conference in Kyiv.
We are working on it !
One date to keep in mind
Beside compiling data, creating forms and survey, working hard to prepare EL*C conference, doing some activist work, reading hundreds of workshops proposals some - probably running on 100% unicorn fuel - still find a way to write and publish a book.
Our unicorn Spanish board members Kika Fumero and Marta Hernandez have just been published : « Lesbianas asi somos » please learn more about it here.
There is a saying: "Behind every man of power, there is a woman of power".
At EL*C we say that "behind every step taken towards the 2nd European Lesbian* Conference, there is the sum of crazy energies and (too discreet) forces of nature."
And among them there is Kseniya Kirichenko and Leila Lohman both EL*C board members who gave an interview to qLit magazine about lesbian Life in Russia and in Switzerland.
qLit is a hungarian lesbian site accessible in English. Beside being a magazine, they also do a community building work primarily for lesbians* living in Hungary. In short they do amazing work.
In may 2018, Ireland voted by a 2 to 1 majority in a national referendum to repeal its eighth constitutional amendment. This december 2018, abortion lesgislation just officialy passed in Ireland. Well done to Irish activists and special thoughts to the lesbian activists who made this possible.
Since the lesbian feminist movement of the 1970s, queer women have been activist leaders in feminism — in Ireland, this overlap was embodied by Nell McCafferty.
« I think lesbians being involved in the women's movement goes way back to the 1970s. We've always been a hugely powerful force at the forefront of the women's movement. It is in our bodies as women, and as lesbians that we are doubly subordinated. »
An article by Brian O'Flynn in them.us - Read more
Anna Calvi, Lara Dickenmann, Janelle Monáe, Rita Ora, Sasha Lane, Abbi Jacobson, Anne-Marie, Cardi B, ... and so many others.

Yes 2018 was definitively a lesbian year as attested in the L-Mag who listed those who came out this year as lesbian, bisexual, queer or pansexual. News of the lesbian world (in german).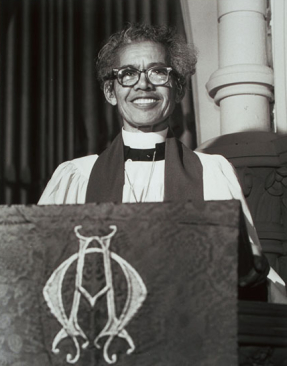 Did you know Anna Pauline "Pauli" Murray was a lesbian, mixed-race woman and wildly influential legal thinker ?
On the Basis of Sex is the next film based on the life and early cases of Supreme Court Justice Ruth Bader Ginsburg in which Dr. Anna Pauline Murray's character make a small appearence. Although she is far from being the main character, the movie allows the public to discover a figure of the civil rights struggle too unfairly erased from history.
Dr. Murray (1910-1985) was an Amercian civil rights activist who became a lawyer, a women's rights activist, Episcopal priest and author. In 1977, she became the first african-american woman to be ordained as an Episcopal priest. Murray struggled with what we would call today a transgender identity. What began as early as 8, when Murray asked her aunt Pauline to buy her boys' clothes, became a lifelong journey that involved invasive surgery to see if she had "secreted male genitals."
Learn more about Dr. Anna Pauline Murray by reading Marisa Bate's nourrishing article on Dr. Annna Pauline Murray in Bitch Media. And because we are in the middle of wishes and gifts time, here is another article about her life written by Kathryn Schulz from The New Yorker.

MEANWHILE...
As you know, between April 12 - 14th 2019, will be held in Kyiv the second edition of our European Lesbian Conference.
We still don't know if we will have a football, tennis or any kind other sports' tournament at the European Lesbian*Conference in Kyiv but...
We keep a close eye on those lesbians and feminists who make us proud such as:
Billie Jean King has been given a lifetime achievement award.
The 75-year-old American, one of the greatest female tennis players of all time, won 39 Grand Slam titles in singles and doubles competitions. King is an advocate for gender equality and in 1973 won the Battle of the Sexes match against Bobby Riggs. She is also the founder of the Women's Tennis Association (WTA). Oh and if you haven't see it yet please roll your lovely self under a warm blanket and hit play to watch : Battles of the Sexes. In the meantime, more on Billie Jean King achievement's award here.
Ada Hegerberg is 23, she was Norway Top scorer of the 2012 Norwegian Championship, named in France as Top scorer in the French Championship in 2015-2016, 2016-2017 and 2017-2018, named as one of the top 3 best players in the FIFA world in 2018. On september 3rd, she became the first woman ever to be honoured with the prestigious Ballon d'Or award, recognising her as the best soccer player in the world. And then...at the ceremony of the Ballon d'Or 2018 in which she was rewarded, the host, French DJ Martin Solveig, stepped up to ask her a question : can you twerk ?
Yeah...we know.
Read Ada's inspiring and brilliant tribune as an answer to ordinary sexism: "Not here to dance".

READINGS...
Jingle bells, chestnuts, petits fours, long, rich and boring meals (or not), reunion, frost, snowflakes or timid sun, solitude, love, wild sex or serene escapades, the end of the year is all that and so much more. And so much else too. Every year.
One thing that also does not change is the traditional list of books to read, to offer to yourself or others, to add on the traditionnal next year resolution's list. And that is good because books are cheaper (and more effective) than diets, especially feminist ones. So here is a selection of books to read, to offer to yourself or others, to add on the traditionnal next...well you got it now : 2018's Best Books About Bodies by Melissa A. Fabello on Bitch Magazine.