Find out about EL*C's Venue for 6-7 October / EL*C Lunch & Dinner Package / Program update!

EL*C Newsletter


What you can find in this issue:

 1. Dates to keep in mind for EL*C!
 2. EL*C Venue update for 6-7 October!
 3. EL*C Lunch & Dinner Package during the conference: 35 Euro!
 4. EL*C in the news!
 5.  Registration Status: Who is coming to EL*C?
 6.  EL*C Special Saturday Events: Lesbian* March & Party @ Rote Bar!
 7.  Check out our program for speakers & activities!
 8.  We are looking for volunteers for the EL*C between 5-8 Oct!
 9.  Promotion tips for EL*C members and sympathizers across Europe

1.    Dates to keep in mind for EL*C!

• Thursday 5 October – Welcome Reception I 17h30 – 19h30 I Palais Epstein
• Friday 6 October & Saturday 7 October – Workshops & Keynote Speeches & Cultural Program I Brotfabrik
• Sunday 8 October – 'Way Forward' Discussion & Brunch I 11h30-14h00 Lesbian* Network Brunch I 14h00-16h00 'Way Forward', Arcotel Kaiserwasser

2.    EL*C Venue update for 6-7 October!

We are delighted to update and confirm that the European Lesbian* Conference on 6-7 October will take place at the Brotfabrik a beautifully refurbished former bread factory! For our event, we will be taking over the third, second and first floors at this incredible venue.

The most convenient way to reach the venue is to take Metro 1 (U1) and to get off at the stop, "Reumannplatz", from there step into tram line 6 and get off at the stop, "Absberggasse". The Brotfabrik is located at, Absberggasse 27.

Please note that the Brotfabrik itself offers easy access for persons with disabilities or in a wheelchair, if required.

IMPORTANT NOTE: around the venue are very few possibilities to buy food. We decided to offer the possibility to book 2 x Lunches & 1 x Dinner package during the Event.


3.    EL*C Lunch & Dinner Package during the conference: 35 Euro!

We decided to offer the possibility to book 2 x Lunches & 1 x Dinner package during the Event. For 35 Euros, all included. The meals will be prepared by «Die Jägerin», a start up, working with biological and local ingredients, always freshly provided, gluten free and vegan.


2 x Lunches will be served between 13:00 – 14:00 as well the dinner for Friday evening 18:00 – 20:00 in the Brotfabrik.

EL*C Lunch, Dinner Package during the conference: 35 Euro!

4.    EL*C in the news!

The EL*C has been in the news lately! Among the media outlets having covered the EL*C are, L-MAG, Zij aan Zig, Wiener Zeitung, and there are more articles to come by an.schläge, and Lambda News!

Also look out for coverage of the EL*C by Octo TV starting in September!


5.    Registration Status: Who is coming to EL*C?

!!! Registration is officially closed, with 350+ tickets sold!!!

Over 400 NGO leaders, grassroots activists, academics, artists and donors from 40 European and Central Asian countries will converge in Vienna with the goal of developing a political agenda and a working program for the European lesbian* movement.

Among the confirmed countries represented at the EL*C are:

Armenia, Australia, Austria, Belgium, Bosnia and Herzegovina, Brazil, Colombia, Croatia, Czech Republic, Denmark, Finland, France, Germany, Guatemala, Hungary, Ireland, Italy, Japan, Liberia, Luxembourg, Montenegro, Netherlands, Nigeria, Poland, Portugal, Romania, Russia, Serbia, Slovenia, Spain, Sweden, Switzerland, Taiwan, Tanzania, Turkey, Ukraine, United Kingdom, United States, Uzbekistan, Zambia & more!

6.    EL*C Special Saturday Events: Lesbian* March & Party @ Rote Bar!

A Lesbian* march is taking place Saturday 7 October between 6pm-7:30pm as a side event to the European Lesbian* Conference. A specific workshop will be allocated to those wishing to create banners and other signs to bring to the march on Saturday afternoon.

Lesbian* March
Timing: 6pm-7:30pm
Start point will be: Vienna State Opera
Finish point will be: Place of Human Rights

Saturday Night Party at Rote Bar, 10pm-4am: Following the Lesbian* March, the EL*C in cooperation with the Vienna Pride Organizers are happy to announce that a Party is taking place between 10pm – 4am at the Rote Bar, National Theater Vienna.


7.    Check out our program for speakers & activities!

It is the first time a conference of this dimension takes place in Europe to reclaim equality for lesbians*. During 3 days, 80 lesbian* experts are going to facilitate over 20 workshops and keynote speeches on a multitude of subjects, from lesbian* health, sexuality, policies, trans issues and racism, to workplace equality, media, culture and many others.

For additional information about the program, visit our website.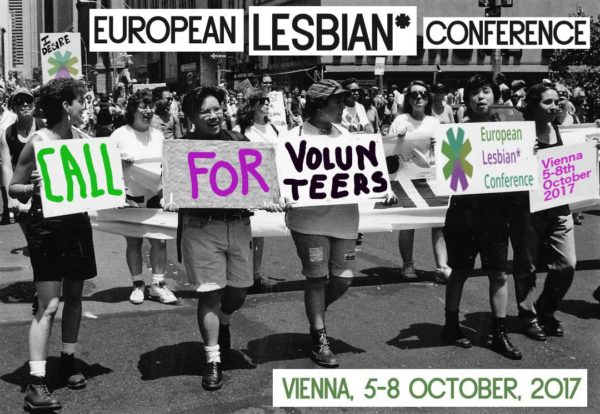 8.    We are looking for volunteers for the EL*C between 5-8 Oct!

It is the first time a conference of this dimension takes place in Europe to reclaim equality for lesbians*. During 3 days, 80 lesbian* experts are going to facilitate over 20 workshops and keynote speeches on a multitude of subjects, from lesbian* health, sexuality, policies, trans issues and racism, to workplace equality, media, culture and many others.

For additional information about the program, visit our website.

Become a volunteer and join the team of the European Lesbian* Conference in Vienna: 5-8 October 2017!  Join us to support the lesbian movement and meet the great feminist activists, artists and experts from all over Europe and the world that will gather in Vienna this October!

From the 5th to the 8th of October Vienna is hosting the European Lesbian* Conference. The EL*C is looking for motivated people willing to participate in the biggest gathering of activists working on lesbian issues in Europe. We will expect hundreds of people between participants, journalists, speakers and workshop leaders and we need your help!

We want a strong, feminist and inclusive lesbian movement and this Conference is an important moment to build it. If you believe that lesbian issues need more visibility in the LGBTIQ+ agenda, if you are a feminist and you want to get involved in the LGBTIQ+ community, if you want to be part in an inclusive and feminist event and if you believe that every contribution it's fundamental to change the world: this is a great occasion for you!

Why you should volunteer?
– to meet great feminist activists, experts and artists from all over Europe and the world.
– to get the opportunity to contribute concretely in an event that will strengthen the European LGBTI community.
– to get an insight of the organization of an inclusive and feminist meeting.

What we can offer you:
– an open-minded, respectful and feminist environment
– an enriching and pleasant experience
– a lot of fun
– a certificate of participation

Depending on your skills, interests and Conference needs, you will be there to:
– help with registrations and the welcoming of people,
– guide participants through the venue and answer questions about Vienna
– assist the speakers and workshops' leaders
– support the logistics of the event (setting up room, help during lunch time…)
– assist with the administrative work
– take notes and write reports on the conference

Requirements:
– Everybody is welcome, we will find a fitting task for you! Your participation and presence will make this event more enriching for everyone!

For any additional questions, you could contact us at elc2017vienna@gmail.com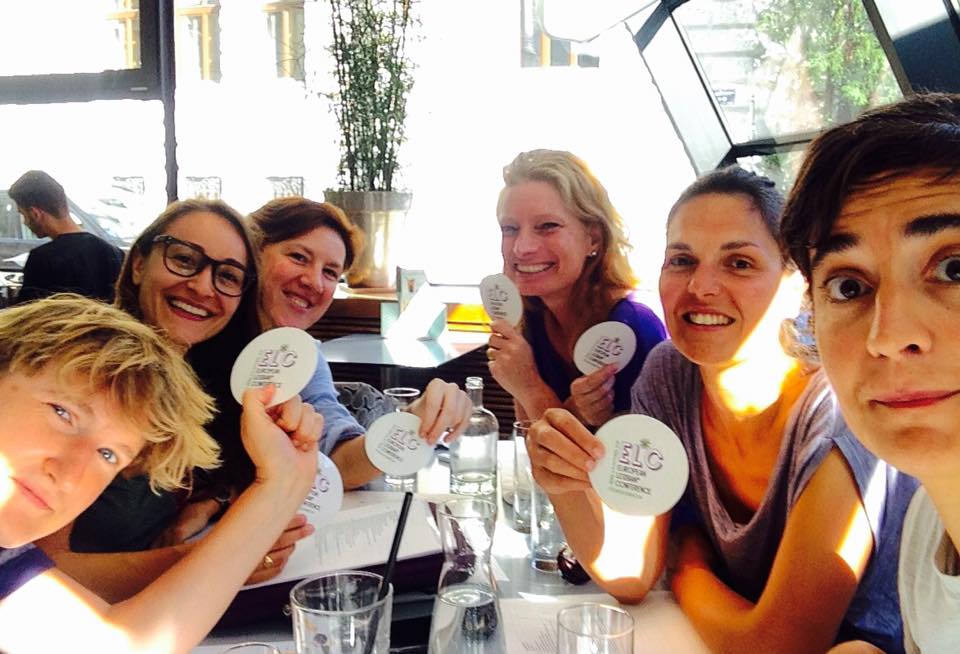 9.    Promotion tips for EL*C members and sympathizers across Europe

Order EL*C Stickers:
EL*C stickers have been ordered by multiple lesbians and lesbian-led groups across Europe to help with the promotion of both its creation and the 1st European Lesbian* Conference – Vienna, Austria, 6-8 October 2017. To order stickers to help spread the word, please email: info@europeanlesbianconference.org

EL*C in your city:
Look out for EL*C-led meetings and activities happening in your city. As EL*C members are spread throughout Europe, so are the initiatives they organize. Meetings have already taken place in Rome, Paris, Zürich, Amsterdam, and Vienna. If you would like the EL*C to promote your event or mention it in our upcoming newsletter, please email: info@europeanlesbianconference.org

For updated information on the 1st European Lesbian* Conference, please visit: www.europeanlesbianconference.org

Official Hashtag: #EuroLesbianCon

Do you want to be updated on the latest news about the European Lesbian* Conference? Subscribe to our newsletter

How to support the EL*C:
– share our information on social media and your networks
– send a participant to the conference
– get actively involved (working group, panel discussion, workshop)
– to facilitate an L* activist presence
– like EL*C Facebook
– follow EL*C trough Twitter
– follow EL*C Instagram

Warm regards,
EL*C Team